Fred Kornis embarked on an incredible journey of faith and service, leaving an indelible mark on the world. His story begins at Trinity College in Florida, where he nurtured his passion for Religious Education, earning his B.A. degree in 1976. But his thirst for knowledge and dedication knew no bounds. In 1986, he achieved his M.A. degree in Ministry from Faith Evangelistic Schools, followed by a Honorary Doctorate of Theology in 1992. Fred's insatiable hunger for growth led him through many specialized training programs and enlightening seminars.
However, his journey wasn't confined to classrooms and accolades. Like Jesus, he has spent most of his time in public places on the streets empathising with normal people.
Fred was forged for a higher purpose — a global mission of evangelism and teaching that has spanned Asia, Europe, the Western hemisphere, and beyond. Despite his many accomplishments, Fred's heart remains ever-humble, as he felt that his true calling was just beginning, making the notion of "retirement" seem distant and irrelevant.
Fred's legacy of love and devotion extended beyond his calling. With a family that blossomed to include 4 married children, 16 grandchildren, and 8+ rapidly growing great-grandchildren, he embraces the challenges of life with grace and maturity. At his side through every step is his beloved wife Barbara, an unwavering partner who not only shares his journey but also provides invaluable support in the administrative realm at the HIM headquarters.
Fred's faith journey was unique. While serving as a paratrooper in the United States Army during the Vietnam War, specifically with the 173rd Airborne, something extraordinary happened.
On a significant day, July 11, 1970, he found deep comfort and connection with Almighty Jesus Christ, making Jesus his personal Savior.
Despite the challenging environment of LZ English, where he was stationed, Fred's compassion shone brightly. He actively participated in drug rehabilitation efforts and helped with medevac rescues, showing kindness even in difficult times.
Fred's commitment to service extended to every facet of his life. He wore various hats as a youth/music director, interim pastor, and a city chaplain in Baltimore, Maryland from 1976 to 1983. From 1975 to 1984, he devoted himself to the Baltimore/Washington branch of Open-Air Campaigners as an Area Director and staff evangelist. His missionary journey led him to the Philippines in 1984-1986, and even upon his return to the USA in 1986-1988, he continued to serve as the U.S. Field Representative of Open-Air Campaigners (OAC). A missionary-evangelist role with Ambassadors for Christ International (AFCI) became his focus for the next 14 years.
Fred's life is an awe-inspiring testament to the boundless possibilities of faith and determination. From the halls of academia to the battlefields of Vietnam, from the pulpit to the streets, he has illuminated the world with his unwavering spirit. Let Fred's journey remind us that our purpose is ever-evolving, and with a heart dedicated to service, there are no limits to the lives we can touch and the legacy we can create.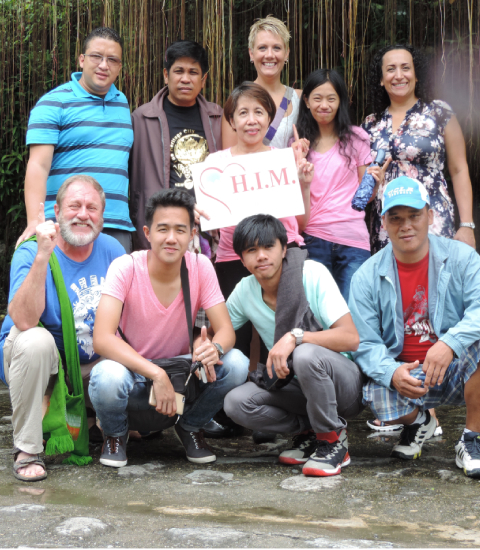 Fred has been sensitive to the spiritual and physical needs of people wherever he goes.
Throughout his fifty plus years of dedicated ministry, he has journeyed supplying resources, funds, equipment, vehicles, building constructions, food and medication among the others things to numerous countries.
Fred has been sensitive to the spiritual and physical needs of people wherever he goes.
His travels have taken him to diverse places like Mexico, India, the Philippines, China, Kazakhstan, Europe, Asia, Nicaragua, Egypt, Zambia, Zimbabwe, Fiji, New Zealand, Haiti, Croatia, Guatemala, Honduras, Ethiopia, Indonesia, Poland, Bangladesh and Nepal.
His impactful ministry extends far and wide, involving a multitude of meaningful interactions with local churches, youth groups, camps, schools, jails, hospitals, rescue missions, men's retreats, conferences, training seminars, and compassionate visits to those who are ill or confined.
Love, as described in the timeless words, "Love is patient, love is kind. It does not envy, it does not boast, it is not proud. It does not dishonour others, it is not self-seeking, it is not easily angered, it keeps no record of wrongs. Love does not delight in evil but rejoices with the truth. It always protects, always trusts, always hopes, always perseveres. Love never fails,"-1 Corinthians 13 is a principle he lives by.
This same profound love, Fred has generously shared with the less fortunate. He has guided countless individuals towards a spiritual connection with the Divine.
As you could imagine this kind of work takes a lot of sacrifice and money!!.
Your prayers and donations are urgently requested to uplift him in ongoing missions.
We Change Your Life & World
Meet Our Team